The main goals of physical therapy are to promote the ability to move, reduce pain, restore function, and prevent disability.
Sports injuries can come out of the blue or they can be the result of thousands of repetitive motions. No matter which camp you're in, a trained sports physical therapist can dig into those muscles and work out the kinks.
When you seek rehabilitation at Peak Physical Therapy in Durango, CO, not only will you be receiving high-quality, one-on-one pain relief treatment, but our friendly team will help you have fun while doing it.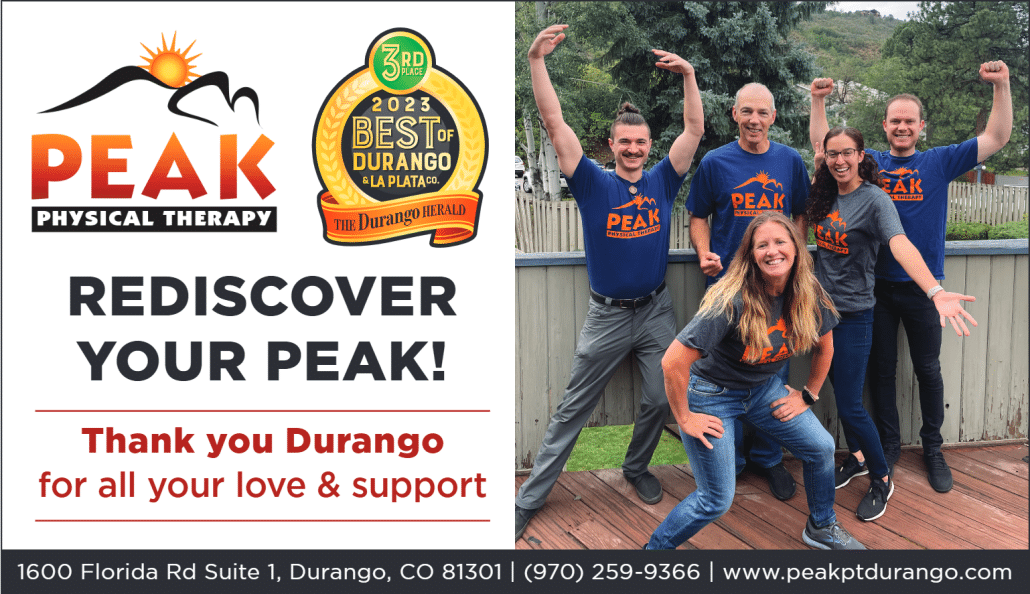 I walked into Peak Physical Therapy with hip pain that had been increasing for at least 6 months. Ron was able to pinpoint the exact muscle that was causing the pain and he provided me with a series of exercises and stretches that targeted that exact muscle. I was virtually pain free after 6 sessions! Magic? It sure felt that way! Thanks, Ron and the whole team at Peak!

Stephanie and the therapists at Peak Physical Therapy are amazing! They are experienced, knowledgeable, and compassionate. I had a series of injuries over the course of 2020-2021 (tough year), and Peak patiently worked with me through each injury. I am now back to my pre-injury active life style, for which I am very grateful. From crutches to the podium! Great job! Thank you very much Peak Team!

I signed on with Peak following a total knee replacement, and they have done a terrific job in getting me back to everyday functionality and recreational activities. Everyone on staff is competent and supportive, though Stephanie was responsible for most of my treatment. I am very pleased with the outcomes of my work there and highly recommend this practice.