Why Choose Us
---
We are Dedicated to Restoring Your Quality of Life
At Peak Physical Therapy, we realize the reason you may be walking through our door is because of pain or impaired quality of life. Our reason for being in business is to support you and your body to STOP simply surviving – and rediscover how to thrive! We proudly serve patients in Durango, CO and the surrounding areas. Our licensed physical therapy providers offer personalized, hands-on care with 45-minute appointment times.

OUR HISTORY
Stephanie worked for the previous owners of this facility for four years, and when they closed the business, she reopened it in November 2012. She has worked in this location for approximately 10 years and has been a PT for 20 years. As such, Peak PT is now locally owned and operated. Her motivation for starting this business was to provide a higher level of quality of care to patients. To her, the relationships are the most rewarding part of this career, and she feels like by establishing excellent rapport with patients, she can get the best outcomes in helping them achieve their goals. She also likes to have fun, and she wouldn't do this if she didn't have fun doing it. Most times when people come to Peak Physical Therapy, they are in pain and dread coming as they fear more pain, so the team strives to make the experience as enjoyable as possible.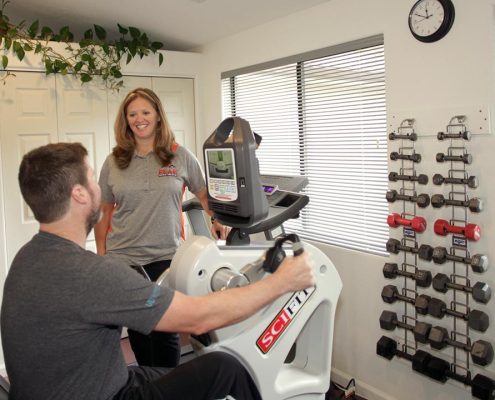 OUR PHILOSOPHY
Many of our patients come to see us because they are in pain. We try to make that pain more manageable by creating a treatment plan that is fun, enjoyable, and as painless as possible. By listening to our clients, we strive to establish rapport with them. By the end of their PT experience many of our patients become like friends or even like family.
We try to incorporate a team approach, where the patient, the referring doctor and our staff are all on the same team trying to reach the same outcome. This allows everybody to help the patient reach their goals, as well as our goals for their rehabilitation.
We provide services in a comfortable, welcoming environment, where all physical therapy services are provided by licensed providers. Here, you will never be pushed off to a non-skilled provider. We believe you deserve the best in care, and that's what we will provide for you at every appointment! To us, PT is not "work," because we truly enjoy watching our patients progress and increase their quality of life.
OUR AWARDS
Our practice won 1st Place for the 2017 Best of Durango, was Opencare's Patient Choice Winner in 2015, and The Durango Herald Reader's Choice Award 2016 Runner-Up, and Honorable Mention in 2013 and 2014!