Patient Information
---
Proudly Serving Patients in Durango, CO & Surrounding Areas
Experience physical therapy in a comfortable and welcoming setting at Peak Physical Therapy in Durango, CO. Here, we make the journey towards pain relief and improved quality of life, fun! Our team of friendly, licensed physical therapists provide you with one-on-one attention and services, offering the care you deserve.

Below is important information to help you succeed at our practice!
WHO SHOULD COME TO US?
People who want to get well and be active participants in their recovery
People who are in pain
Pre- and post-surgical patients
People with gait/balance issues
Women's health issues (incontinence/post mastectomy)
People who want to feel heard and not "herded"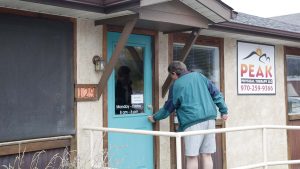 FAQS
Q:

 DO I NEED A PRESCRIPTION FROM MY DOCTOR TO SEE A PHYSICAL THERAPIST?
Colorado is a "direct access" state meaning you do NOT need a referral from your doctor to begin physical therapy. However, there are some insurance companies that do require a prescription including Medicare and Medicaid as well as a few others. Call us to find out if your insurance requires a doctor's prescription.

Q:

 WILL MY INSURANCE PAY FOR TREATMENT?
Most insurance plans do have a physical therapy benefit. Some plans have a deductible that will need to be met first and you will be responsible for the allowed amount. If your deductible is met or you do not have one, you may still have a co-payment or co-insurance. Insurance plans vary so check your benefits or call us and we can help provide a description of your coverage.

Q:

 DO YOU ACCEPT MY INSURANCE?
We are contracted and in network with most major insurance companies. See the list below for some of our contracted insurance providers. If you do not see your provider below, please call us to find out if we are in network. We also offer convenient cash pay rates.

 Aetna
 Anthem Blue Cross Blue Shield
 Assurant
 Blue Cross Blue Shield of NM (or any other state)
 Child Health Plans Plus (CHP+)
 Cigna
 Cofinity

 CTSI
 CNIC Health Solutions
 First Health
 GEHA
 GreatWest
 Humana
 Meritain
 Medicaid

 Medicare
 Motor vehicle insurance
 Rocky Mountain Health Plans
 Tricare/Triwest
 United Healthcare
 Veterans Administration
 Workers Compensation

Q:

 CAN I GO TO THE PHYSICAL THERAPY CLINIC OF MY CHOICE?
Yes! As with anything, you have a choice in where you go for PT. Some things you may want to consider is if your insurance is accepted, location, and personalized attention. If you have any questions, please call us and we will answer them to the best of our ability.

Q:

 I'VE NEVER HAD PHYSICAL THERAPY. WHAT CAN I EXPECT ON MY FIRST VISIT?
Your first visit will be an evaluation with your physical therapist. Please come 10-15 min early to fill out paperwork. After this, you and your therapist will discuss your history including your injury/condition followed by an examination of the affected body part. This may include ROM, strength, sensation, balance, and functional movements. A treatment plan will be established including a home exercise program, goals, and need for further appointments.

Q:

 WHAT SHOULD I BRING WITH ME?
Please bring your prescription (if you have one) and your insurance card if you plan to use insurance. If you have already filled out our paperwork, bring it with you. If your injury is work or auto related, please bring your claim information.

Q:

 WHAT SHOULD I WEAR TO PHYSICAL THERAPY?
Wear comfortable clothes that allow access to the affected body part. We do have changing facilities for your convenience.

Q:

 HOW LONG IS EACH APPOINTMENT?
Plan for approximately 1 hour for your initial session. Follow up appointments will be 45-60 min.

Q:

 WHO WILL TREAT ME?
Our philosophy is centered around developing personal relationships with our clients to help achieve their goals. We believe the best way to do this is to have a dedicated provider in order to have continuity of care. All care is provided by licensed physical therapy providers.
NOTICES
To save time at first appointment, download, print and fill out the following forms and bring them along with you.